Books
Check out our books and series below!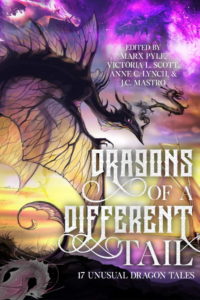 Dragons of a different Tale
"Eighteen award-winning, veteran, and emerging authors bring you seventeen unique dragon tales that defy tradition. Winged serpents as large as continents, as well as those tiny enough to perch on the fingertip of a young girl. Dragons who inhabit the Wild West, Victorian London, Brooklyn, and a post-apocalyptic Earth. Scaly beasts who fight in the boxing ring, celebrate Christmas, and conquer the vast void of outer space. There are rockstars who meddle with dragon magic, clever and conniving shapeshifters, and powerfully exotic hybrids. Science fiction, urban fantasy, mystery, western, epic fantasy, YA fantasy…no matter the setting or the genre—here be dragons!"
obsidian Monsters
"Code name: Grey Wolf. I work for Obsidian, which has secretly protected Earth from Otherwordly threats for thousands of years. I'm great at what I do, but I've always worked alone…until now. An unprecedented and unimaginable danger threatens all human life on the planet, so I'll need to lead a team of what the Council considers "monsters and magical malcontents." It's risky, and I don't know if I can trust them, but if we're to succeed, they'll need to become heroes…or die trying."
coming soon
We have a few projects in the works, so be sure to check for updates.